"Cecil McLinn served as an Executive Board Member with our Chamber of Commerce and Hope Foundation. He passed away on January 25, 2021 from complications of COVID -19. This article was written in December 2020, and now serves as a Tribute to his legacy."
by: Jeanette Grattan Parker
The story of Cecil McLinn is one of major interest, especially during this time when we hear of too many African American men having been beat up and shot up at relatively young ages when they are still in childbearing years. When the lives of Black males are "cut off," that means their progeny is "cut off." That means there may have been scientists, astronauts, prophets, doctors and geniuses in their loins; but, their lives were "cut off!" In addition to that, too many fathers leave their children fatherless…not Mr. McLinn and not his children. He is looking forward to his legacy, a legacy to leave behind for his children and generations to come. He made a mark in society, a model man regardless of ethnicity. Presenting "The Cecil McLinn Success Story."
My husband and I first met Cecil McLinn during the Beverly Hills High School years of his son and our son. Cecil was born during turbulent times in Los Angeles on February the 18th 1938 to Cecil and Lela McLinn when "The Los Angeles Killer flood of 1938 was one of the largest floods in the history of Los Angeles, Orange, and Riverside Counties in Southern California. It was caused by two Pacific storms that swept across the Los Angeles Basin in February-March 1938 and generated almost one year's worth of precipitation in just a few days. There were about 115 deaths and a loss of about $78 million. Buildings were damaged (1,500) and destroyed (5,601) and several small towns completely destroyed; along with large portions of Riverside and Orange counties completely inundated." This turmoil was broiling in Cecil's surroundings when he came into this world.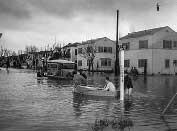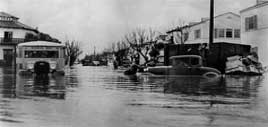 He has an admirable education background having attended 36th Street Elementary School which was renamed Bright Elementary after his 6th grade teacher. He also attended Foshay Junior High and LA High. He is proud to be a product of public education in Los Angeles. He attended East LA College and received his BA from Whittier College. His Master of Science was earned from University of Southern California (USC). His athletic abilities served him well being an athlete in high school and college. He played football and baseball and received a scholarship to Whittier College.
His parents need to be applauded for their toughness. In spite of everything that was going on, they persevered through it all. Cecil got a lot of his ways from his parents who never gave up on their children. His 33 year career with the Los Unified School District started in 1961, where he taught Physical Education and Health at Markham Junior High for 5 years; then he transferred to Horace Mann Junior for 2 years, then to Dorsey High and having the great opportunity to participate in the opening of Crenshaw High in 1968. Again, he taught PE and coached football and baseball. This contributed to his legacy of helping young men and women by setting an example to be a positive influence in the lives of maturing young people. One great thing which sometimes is lacking during more current times is encouragement. Not only was he encouraged to earn his Administrative Credential; but was an active participant by having a good listening ear and did so in 1968.
He spent two years at Crenshaw High before going into business. A good friend of his convinced him to leave education and join him in the insurance and investment business. He took the leap of faith and for the next 20 years, he had a successful number of years helping clients secure their financial futures. Again, he chose a career to help propel forward the lives of others. This showed his selfless attitude. This type of tenacity is what we long to see passed on to more of our younger men and women during this time. There are many young, vibrant men, but we hear more about those who have strayed from the path, gotten into trouble with the law, giving up and not stuck to furthering their education and career paths. Mr. McLinn spent decades guiding the paths of young men and women and helping to secure their future. You can glean from his life that he has an interest in helping others to become their best both young and older adults. This is evidenced by long years in education and his business life in insurance…still helping people.
He was not finished, for in 1970, he took a huge risk to leave a secure career in education to venture into a business that he had very little knowledge about. I quickly learned and received my insurance and securities licenses. I started with a large investment company and after 5 years was managing a large office in Beverly Hills. We can see that having been selected for this position of responsibility, there was something about him which others could see promise in him and trustworthiness. After 20 years in business, he returned to education because he wanted to teach high school students again. So in 1993 and in 1995 he was selected to be the Principal at Duke Ellington Continuation High School adjacent to Washington Perp High. He was privileged to serve for 22 years. Cecil has a "never give up attitude and lifestyle and retired in 2017 and started a new business career. I think you might want to call him Mr. Tenacity with Elasticity.
I asked him what did he think propelled him to his high level of perseverance? He said, "My centrifugal force was being born into a family of doers: my father, my mother, my uncles and aunts. My dad was a LA city firefighter and businessman after retirement; my mom was recreation director and business woman, my uncles were US Post office, military and Los Angeles Police Department. I saw success and tried to learn and use all of the knowledge that was given to me." This we need to teach to our young ones and young adults today. Other than family, I was surrounded by friends of the family that were great role models. I was also influenced by teachers, college professors and of course my coaches." Mr. McLinn is an example for many teachers of today. Many can learn from him. I asked Mr. McLinn, "What motivates him? He said, 'It is being able to be a lifelong learner and teacher." "My entire family motivates me. My major motivation now is to leave a legacy to my immediate family, in particular my four year old grandson. Through my business opportunities, I will leave a financial legacy." Cecil goes on to say, "Throughout my education and business careers, I have shared ways to be successful by demonstrating what to do on a daily basis. I have shared my athletic career, my college experience, my teaching career. In business it was showing how to reach personal and sales and income goals. A great deal of conversation took place as did listening."
He is a proud father and loves to talk about his grandchild and his two grown children: Tiffany is 53 and David is 44. Tiffany is a Cal Berkeley graduate who has had a very successful career in motion pictures and television as a director and producer. David is a UC Santa Barbara graduate and practicing attorney in Los Angeles. Education and hard work were always stressed in our home. It can be evidenced that being born during The Killer Flood of 1938, his parents didn't have time to talk about what they didn't have or what they did not receive, but their perseverance propelled them to fight it on through. They saw success and kept it in their vision.
He goes on to say, "We allowed our children to explore and choose experiences that would have an influence on their college and careers. We encouraged them to be strong and independent. It was not always easy. I can only recall one spanking I received from my mother at a very early age. I do not recall ever receiving a spanking from my father. Strong discipline lectures from my parents was enough for me and my brother to straighten us out. This method of discipline was used on our children and worked most of the time." We learn that rather yelling, screaming and slamming doors at their children and whipping them, which can lead to rearing angry and disobedient children because the discipline was handled too roughly, but sometimes interpreted by the children as not being through "love." And the children learn to do what they see parents as the first teachers do.
"Cecil says further, "I first became aware of entrepreneurship when I was young, about 10 or 11, when I saw all of the businesses on Central Avenue, where my dad was a firefighter at Station 14. Black people owned grocery stores, clothing stores, bakery shops, record stores etc. I started by mowing lawns in my neighborhood and graduating to a LA Times morning paper route, until I graduated from high school. In the 1950's, being an entrepreneur was difficult because of the racism that existed. I did not revisit being an entrepreneur until 1970 as I have previously stated." [Mr. McLinn did not allow racism to stop him. He saw it, but didn't let it stop him from mowing right on through to a successful life with two wonderful children, being a good neighbor and an outstanding citizen.] "As I was approaching retirement from LAUSD in 2017, I was told by my financial advisor that I would have tax issues. My retirement income and tax deferred savings would provide great income but create tax issues. He suggested starting a business. He listened. During a time when he could have made a bad decision, he made a wise decision. He used caution rather than impulsive, rash behavior.
I went into an online shopping business with him that was created on the Amazon model. We struggled for three years but the two founders did not have capacity to grow the company. The entrepreneurial spirit with another business partner lead me to another online shopping company that showed a great deal of promise. A lot of promises were made but the company could not make good on them. In March of this year we decided to become passive income strategist. We became founders in the North American branch of SUPONIC. The original SUPONIC is in Seoul, South Korea. We are called S Nation. We are the video gaming and cryptocurrency arm of the corporation. The video gaming industry is a multi billion dollar business. We are one of the first companies to combine video gaming and cryptocurrency. We have the ability to pay people to play video games. A person can join our company as gamer, partner or marketer or any combination. We are a digital business. We can be reached at snationstar.com"
Cecil further states, "I have not had any negative business experiences during COVID 19 but I have had many positive ones because we are a digital business. As many of business partners have said, including me, we are living our dream in the quarantine." Keep the faith and a positive attitude with the divine higher power and yourself. Mr. McLinn can teach young people and older adults many principles to become a successful grown up person.
Some lessons might be learned and taught from Cecil's life:
Have an attentive and wise ear to listen***
Avoid impulsive decisions and behavior***
Be imaginative***
Understand that not everything will work out perfectly as we want it to***
Keep on trying and watch so as not to not exceed financial abilities***
Be disciplined and controlled***
Stay away from negative thinking people***
Know when it's time to get away from people when you see no promise of success is there***
Keep Godly principles***
Hold on to your vision, your original thought and goal***
know successful things are happening all the time, working in the invisible realm, working for our good; never give up; keep a positive attitude
Jeanette Grattan Parker Ph. D-Founder-Superintendent Todays Fresh Start Charter School www.todaysfreshstart.org (323)293-9826 4514 Crenshaw Blvd. Los Angeles, California 90043: info@todaysfreshstart.org Weekly Columnist for LA Sentinel News & LA South Chamber of Commerce askdrjeanette.successontheway@gmail.com articles copyright February 01, 2021 all rights reserved©" Inquiring Minds Want To Know" ©website askdrjeanetteparker.com "©The Father Famine" "Ask Dr. Jeanette"™